Box Mods
3/31/2015
Box mods are one of many forms that e-cigs consumers have made extremely popular in recent months. The box configuration grants for longer lasting batteries and a larger tank that can hold more e-liquid. Black Mesa Vapors offers a great selection of many of the most prevalent box mods on the market today.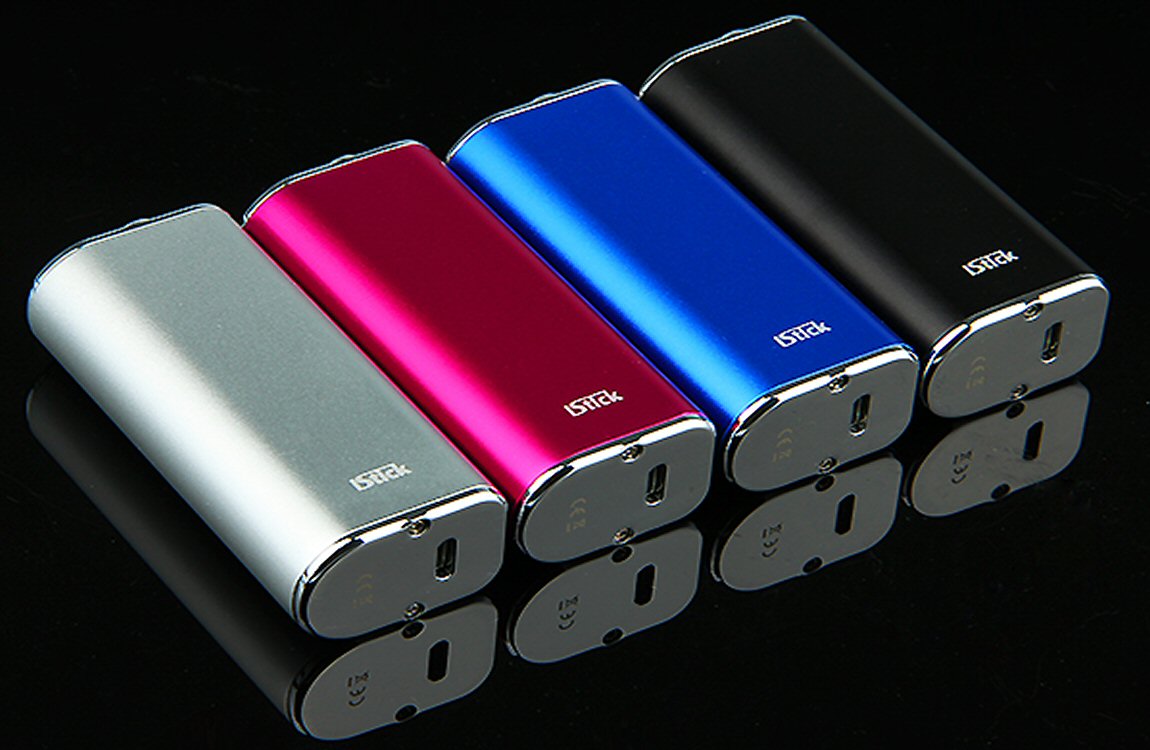 The iStick from Eleaf is one of the most compact, user-friendly 20W mods out there, and once you hold it, you won't believe how much power they've packed into such a small space! The iStick uses a DNA-style screen that shows output voltage, output wattage, atomizer resistance, and battery life at all times. It's variable wattage from 6 to 20W and variable voltage from 3 to 5.5V. It is capable of firing resistances from 1.0Ω to 3.0Ω. The 2200mAh battery is charged via the included Micro-USB cable, and will last for approximately 22 hours of constant use at 3.7V with a 2.0Ω atomizer; higher voltages and lower resistances will decrease your battery life. This kit will come with all the iStick accessories, including the charging cable, a 510-to-eGo adapter, an AC adapter, and the user manual. The iStick holds its own as a primary device, but can also be the perfect stealth vape!
Features:
2200 mAh internal battery
Wattage Range: 6-20W
Voltage Range: 3.0-5.5V
Atomizer Resistance: 1.0Ω minimum
Dimensions:
3" x 1-5/16" x 13/16"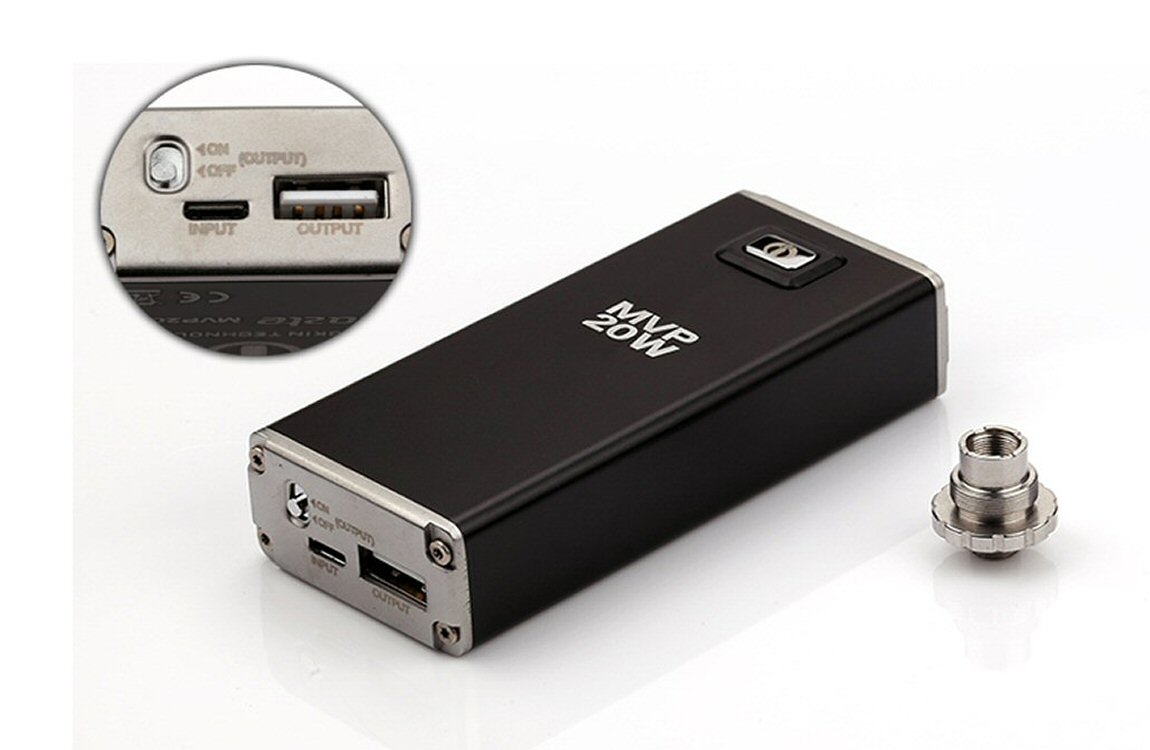 The MVP line from Innokin is one of the most reliable devices in vaping, excellent for beginner and veteran vapers alike. Featuring a 2600 mAh internal battery, this mod has the battery life to allow most vapers at least one full day of vape time before recharging. Under the fire/power button, there is an LED indicator light system for battery charge level. The MVP 20W has adjustable voltage from 3.3-7.5V, and adjustable wattage from 6-20W to provide a satisfying vape combined with nearly any tank system available today.
Well-built from high-quality aluminum with an anodized finish, this device looks as good as it vapes. One of the greatest improvements over the MVP 2.0 is a spring-loaded positive pin for increased connectivity. For even more functionality, the mod doubles as a portable battery bank and can charge your USB powered devices on the go with the flip of a switch. Any accessories (skins or cases) designed for the MVP 2.0 will also fit the MVP 20W, as the dimensions are identical.
Features:
2600 mAh internal battery
Wattage Range: 6-20W
Voltage Range: 3.3-7.5V
Atomizer Resistance: 1.0Ω minimum
Dimensions:
4.21"L x 1.61"W x 0.86"D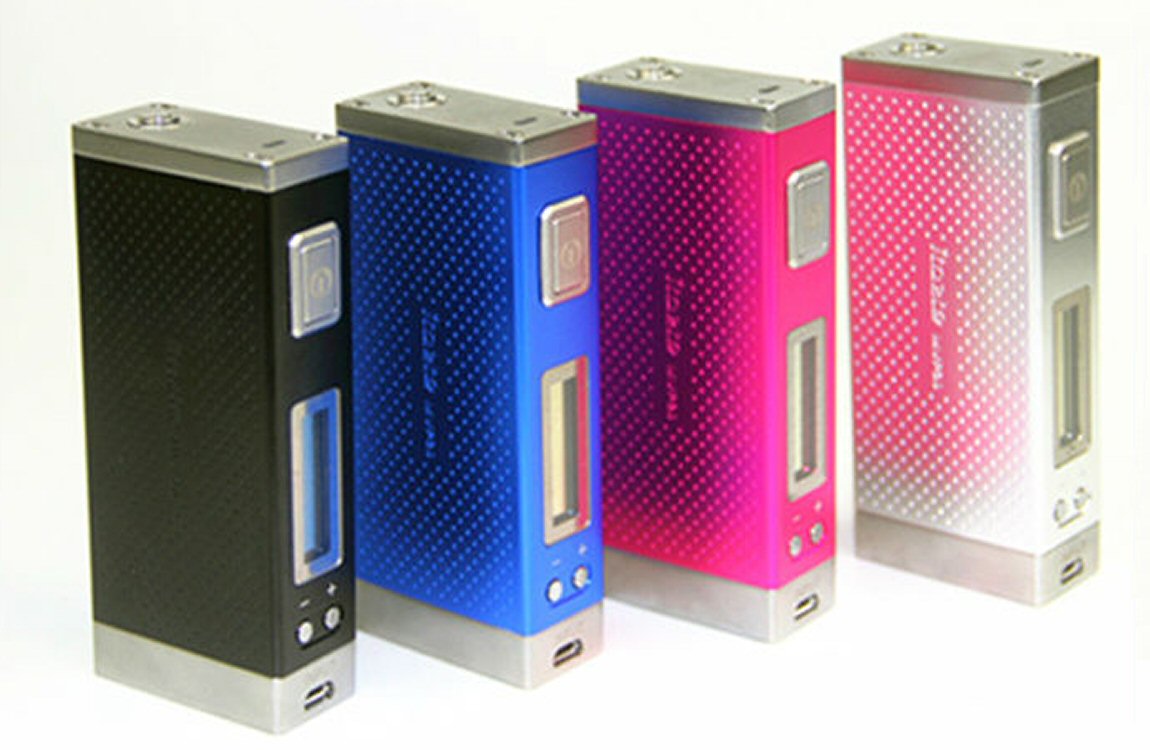 The Innokin iTaste MVP 3.0 is the newest in the line of internationally bestselling iTaste MVP vaporizers. The iTaste MVP 3.0 features a greater range of Variable Voltage, Variable Wattage, advanced safety features, portable electronics charging capacity and also "Vape While Charging" Technology.
The iTaste MVP 3.0 has a flush 510 connection with a spring-loaded positive pin, durable stainless steel threading, an included ego adapter and a replaceable integrated micro-USB charging cable.
The iTaste MVP 3.0 has a variable voltage range of 3.0 – 9.0 volts, adjustable in 0.1 volt increments and a variable wattage range of 6.0 – 30.0 Watts, adjustable in 0.5 watt increments.
The iTaste MVP 3.0 uses vRMS DC current and is very accurate with a power deviation of 0.1 Watt.
The full 30 watts is precisely maintained between resistances of 0.4 to 2.5 ohms. There is no wasted power, and exact accuracy means you are always vaping the power level that you choose. vRMS provides superior precision in delivering the exact wattage Ohm's Law requires, and stable power means better vapor.
Features:
3800 mAh internal battery
Wattage Range: 6-30W
Voltage Range: 3.0-9.0V
Atomizer Resistance: 0.4Ω minimum
Dimensions:
4"L x 1-3/4"W x 7/8"D
The XPro is a new 50-watt, Bluetooth-enabled box mod from SmokTech! It's made out of a high-quality aluminum and uses a DNA-style board. Resistance, wattage, voltage, and battery life are all clearly displayed on the screen at all times. This mod can fire down to 0.2 ohms, and takes a single IMR flat-top 18650 battery. We recommend only using batteries with a continuous discharge rate of 20A or higher. The XPro features 510 threading with airflow channels and a spring-loaded positive pin to ensure a flush fit with any atomizer. The "Smart BEC" app is available on the iTunes App Store and Google Play for Android. This is the same app used for the BEC Pro, but if you already have the app, you'll need to update it. The app will allow you to view vaping information in real-time, collect and view that information on a graph, create vaping plans, set custom dynamic wattages and voltages, and change the mod's settings. Basic settings such as output wattage can be changed on the mod itself, and don't need to be changed through the app. Lastly, the XPro will come included with a Micro-USB cable so you can charge the battery internally, or remove-and-swap with another 18650. The XPro is a versatile, high-power box mod perfect for vapers of all levels!
Features:
Uses 18650 battery
Wattage Range: 6-50W
Voltage Range: 3.0-12.0V
Atomizer Resistance: 0.2Ω minimum
Dimensions:
3-1/2"L x 1-3/4"W x 1"D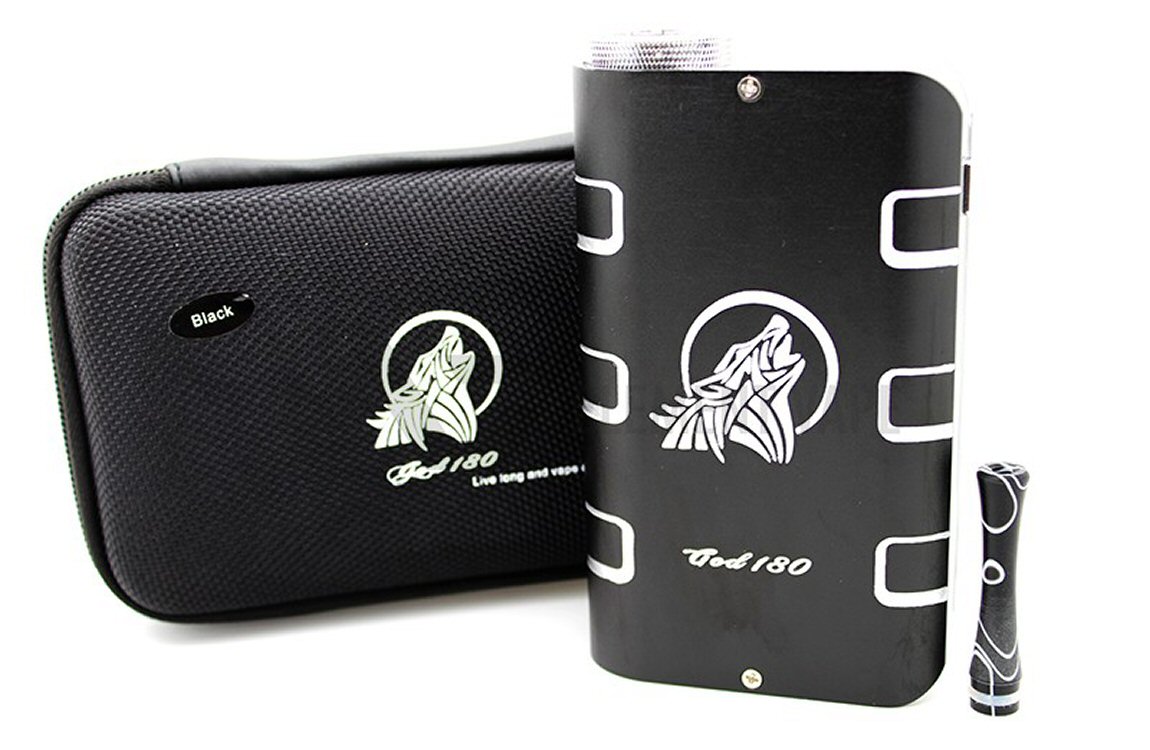 Become a vaping god with the God180 S box mod! This is a variable wattage mod that can be adjusted from 5 watts all the way up to a whopping 180 watts! This mod is designed to take three (3) 18650 batteries with a continuous discharge rate of 25A or higher. It's highly recommended to use rebuildable atomizers only, in order to get the most out of this extremely powerful mod. However, this mod does have 510 and eGo threading, along with a drip well and removable beauty ring with built-in airflow holes. This mod can be used with atomizers with resistances ranging from 0.2Ω to 4.0Ω. The God180 S has a fantastic screen that's easy to read, and a comprehensive, yet simple, menu system. 5 clicks of the firing button will turn the device on or off. 3 clicks of the firing button will bring you to the menu system. Use the + and - buttons to navigate and the firing/power button to make a selection. The screen will always show your atomizer's resistance, the current wattage setting, the calculated output voltage, your battery life, a puff counter, and the current temperature of the board. There's also temperature protection, short circuit protection, and reverse-battery protection. This is truly a beast of a mod, capable of insane power output and more than a full day's of use on a single charge, even for the heaviest vapers. Please watch the video below for complete instructions and safety tips. Comes with a zippered case and one drip tip.
We highly recommend setting your wattage much lower than you think is necessary, then adjusting upward as needed.
We don't recommend setting the God180 to its maximum wattage setting. Do so at your own risk.
Use extreme caution at higher wattage settings to avoid burning.
Please follow all battery safety guidelines, including pairing and rotating your batteries.
Features:
Uses three (3) 18650 battery w/ 25A or higher continuous discharge rate
Wattage Range: 5-180W
Atomizer Resistance: 0.2Ω minimum
Dimensions:
4-3/4"L x 2-3/4"W x 1-1/4"D