Here are some other items that might interest you: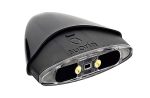 Suorin Drop Cartridge
Price Varies
Suorin Drop Starter Kit
Product Code: SD01
The Suorin Drop starter kit is perhaps one of the most unique starter kits available on the market today. It's also a throwback to the classic automatic style vapes, where the device is automatically activated when you inhale. Other than a sleek LED indicator for your battery, there are no buttons on the Drop's exterior.
For such a small device, the Suorin Drop packs a mighty punch. As an all-in-one device, the kit includes a refillable pod and cartridge system that can hold up to 2 mL of e-liquid at a time. That's enough to last you for multiple sessions without having to worry about running out of juice, and the 310 mAh battery ensures that you'll have enough power to get through that liquid. The battery can easily be recharged using the device's micro-USB charging port.
The Drop is optimized to work just above sub-ohm vaping levels, with the cartridges meant to work between 1.3 and 1.4 ohms and a maximum wattage of 13 watts.
Suorin Drop is a revolution in ultra-portable vape mods. It's a robust and versatile water-drop style ultra portable pod system that features the intuitive Refillable Suorin Drop Cartridge System that allows you to utilize your favorite Salt Based Nicotine e-Liquids or Regular e-Liquids that are 70% vegetable glycerin and 30% propylene glycol, though you can use most e-juices with ease.
If you're in need of a compact and easy-to-use device then The Drop starter kit should be one of the first you look at. Grab yours at the best price in the market here!
300 mAh rechargeable battery
Resistance: 1.3 Ohm – 1.4 Ohm
User Manual


Just like the Suorin Air, the Suorin Drop Ultra Portable System is an all in one system with draw activated firing, a magnetic pod system that can hold up to 2ml of E-Liquid, an atomizer resistance of 1.3 to 1.4 ohms and a maximum of 13W output. A 310 mAh built in battery powers the device and an LED battery life indicator indicates its battery life.
The Suorin teardrop design a simple and convenient all-in-one, ultra portable system that is perfect for users looking for a sleek, covert, all-day vaping device!
Lithium Ion Battery Warning
Usage of Li-ion batteries is at your own risk!
Use caution when working with Li-ion cells; they are very sensitive to charging characteristics and may explode or burn if mishandled.
User must have appropriate understanding of lithium ion batteries when charging, discharging, and assembly before use.
Please perform your due diligence and make sure that this battery is compatible with the item for which you intend to use.
Battery may explode or catch fire if mistreated.
Charge only in a smart charger designed for this specific type of lithium ion battery. Do not mix and match old and new, used and unused batteries.
Always charge in or on a fireproof surface. Never leave batteries charging unattended.
Do not store loose in a pocket, purse, etc. – always use a protective case.
Touching conductive materials on batteries positive contacts can short and damage them permanently.
Do not use battery if wrapper or insulator is damaged or torn.
Any conductive debris or materials on either contact can cause a short
Do not heat above 100℃ or 212℉.
Do not disassemble or incinerate.
Do not expose to water or fire.
Do not short circuit – battery may explode, burn, or cause a fire.
Keep away from children and pets.
Local regulations and laws pertaining to the recycling and disposal of lithium ion batteries vary so please consult your local jurisdiction regarding appropriate disposal.
Black Mesa Vapors LLC accepts no responsibility or liability for any injury, damage, or defect, permanent or temporary that may be caused by the improper use of a LI-ION battery.
---
---
Tweet