Here are some other items that might interest you: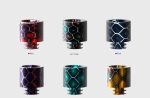 Smok Cobra 810 Drip Tip
Price Varies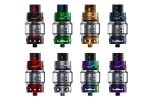 Smok TFV12 Prince Tank
Price Varies
Smok Mag 225W Kit
Product Code: SM08
Smok MAG 225W TC Starter Kit With TFV12 Prince Tank
The SMOK MAG 225W TC Starter Kit features a large HD color screen. The kit includes the SMOK MAG box mod and the TFV12 Prince Tank. The MAG is powered by dual 18650 batteries and the maximum output it can reach is 225W. The TFV12 Prince Tank has an e-juice capacity of 8mL, an adjustable airflow system, and adopts the newest coils for huge cloud and extremely dense flavor.
Features:
Tank Size: 28 x 63mm
Tank Capacity: 8mL
Mod Size: 92.3 x 65 x 30mm
Power Range: 6W-225W
Standby Current: <50μA
Output Voltage: 0.5V-9.0V
Resistance Range: 0.1Ω-3Ω(VW)/0.05Ω-3Ω(TC)
Temperature Range: 200°F-600°F/100°C-315°C
Included:
1 Mag Mod
1 TFV12 Prince Tank
1 V12 Prince-Q4 0.4Ω Quadruple Coils (Pre-Installed)
1 V12 Prince-T10 0.12Ω Decuple Coils
1 Replacement Glass Tube
1 USB Cable
1 User Manual
1 Set of Spare Parts
Lithium Ion Battery Warning
Usage of Li-ion batteries is at your own risk!
Use caution when working with Li-ion cells; they are very sensitive to charging characteristics and may explode or burn if mishandled.
User must have appropriate understanding of lithium ion batteries when charging, discharging, and assembly before use.
Please perform your due diligence and make sure that this battery is compatible with the item for which you intend to use.
Battery may explode or catch fire if mistreated.
Charge only in a smart charger designed for this specific type of lithium ion battery. Do not mix and match old and new, used and unused batteries.
Always charge in or on a fireproof surface. Never leave batteries charging unattended.
Do not store loose in a pocket, purse, etc. – always use a protective case.
Touching conductive materials on batteries positive contacts can short and damage them permanently.
Do not use battery if wrapper or insulator is damaged or torn.
Any conductive debris or materials on either contact can cause a short
Do not heat above 100℃ or 212℉.
Do not disassemble or incinerate.
Do not expose to water or fire.
Do not short circuit – battery may explode, burn, or cause a fire.
Keep away from children and pets.
Local regulations and laws pertaining to the recycling and disposal of lithium ion batteries vary so please consult your local jurisdiction regarding appropriate disposal.
Black Mesa Vapors LLC accepts no responsibility or liability for any injury, damage, or defect, permanent or temporary that may be caused by the improper use of a LI-ION battery.
---
---
Tweet