New Hardware
Here are some other items that might interest you: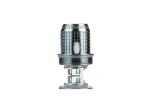 FreeMax FireLuke Mesh Coil
Price Varies
FreeMax FireLuke Mesh Tank
Product Code: FM01
FreeMax FireLuke Mesh Sub-Ohm Tank
FreeMax introduces their FireLuke Mesh Sub-Ohm Tank, a 24mm diameter, threaded top fill system that utilizes mesh coil heads, and a complete knurled construction. The tank can hold a maximum of 3ml of E-Liquid that is easily fillled from a knurled threaded top fill port. The FireLuke Mesh utilizes the FireLuke Mesh coil family and comes with a 0.15 ohm mesh coil head that's rated 40 to 90W. With the utilization of mesh, the FireLuke Mesh coils will last longer and heat up evenly compared to regular coils. Airflow enters the FireLuke Mesh via dual adjustable bottom airslots that can be fully closed. A 13mm wide bore drip tip allows the user to intake adequate amounts of vapor with ample flavor. With its unique construction and the use of mesh coils, the FreeMax FireLuke Mesh Sub-Ohm Tank offers a stylistic design and great flavor.
Quick Links:
Monthly Featured E-Liquids
Product Features:
24mm Diameter Base
Threaded Top Fill System
Two Large Fill Ports
Pour to Fill
3ml Max Capacity
FireLuke Mesh Coil Family
0.15 ohm
40 to 90W
Organic Cotton
Dual Adjustable Bottom Airflow Control
16mm by 2.5mm Each Airslot
Fully Closeable
13mm Wide Bore Drip Tip
Gold Plated 510 Connection
Product Includes:
One FireLuke Mesh Sub-Ohm Tank
Two FireLuke 0.15 ohm Mesh Coil Head
One Spare 3ml Glass Tank Section
Spare Parts Pack
User Manual
---
---
Tweet