New Hardware
Here are some other items that might interest you: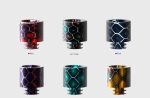 Smok Cobra 810 Drip Tip
Price Varies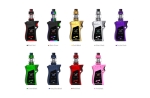 Smok Mag 225W Kit
Price Varies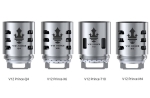 TFV12 Prince Coil
Price Varies
Smok TFV12 Prince Tank
Product Code: ST06
SMOK TFV12 Prince 8ML Sub Ohm Tank
The SMOK TFV12 Prince introduces the new V12 Prince Coil System. The tank measures 25mm in diameter and utilizes food-grade glass material with high-temperature resistance for the reservoir. The e-juice capacity is 8ML and the tank integrates a new coil family, headlined by the 0.12ohm V12 Prince-T10 labed as Decuple Coils with five cylinders designed in vertical orientation capable of firing up to 120W. Each kit also comes with a 0.4ohm V12 Prince-Q4 Quadruple Coil with a wattage range of 40-100W and a 0.15ohm V12 Prince X-6 Sextuple Coil with a range of 50-120W. The TFV12 Prince Tank features a new Cobra widebore drip tip.
Features:
Superior Stainless Steel Construction
High-Grade Glass Reinforcement
Explosion Proof
Lock Button Mechanism
Dual Adjustable Airflow Control
810 Cobra Ultra-Wide Drip Tip
0.12ohm V12 Prince-T10 Decuple Coils
0.15ohm V12 Prince-X6 Sextuple Coils
0.4ohm V12 Prince-Q4 Quadruple Coils
510 Connection
Included:
1 SMOK TFV12 Prince Tank
1 0.4ohm V12 Prince-Q4 Quadruple Core
1 0.15ohm V12 Prince-X6 Sextuple Core
1 0.12ohm V12 Prince-T10 Decuple Core
1 Replacement Glass Tube
1 User Manual
Spare Parts & O-Rings
---
---
Tweet