Atomizer Coils
The atomizer coil is the heating element responsible for vaporizing the liquid.
Here are some other items that might interest you: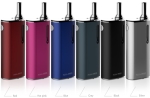 iStick Basic Kit
Price Varies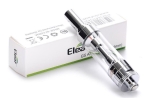 GS AIR 2 TANK
Price Varies
GS Air 2 Coils for iStick Basic
Product Code: GS01
Those replacement coil heads are custom designed for Eleaf GS Air 2 Atomizer. But it can also work on GS Air Atomizer & GS Tank Atomizer. This is the coil for the iStick Basic.
The wire is Kanthal and the wicking material is pure cotton. 0.75ohm is resistance.
Working wattage range: 8-25W.
Following Eleaf atomizers are compatible with the heads:
A. Eleaf GS Air Atomizer with TC Heads
B. Eleaf GS Air Atomizer with 1.2ohm Pure Cotton Heads
C. Eleaf GS Tank 0.15ohm Atomizer
D. Eleaf GS Air 2 0.75ohm Atomizer
---
---
Tweet