Batteries
Batteries are the power behind the vapor. Batteries can typically be recharged 200 to 300 times depending on the type selected. Available in many sizes and colors!
CAUTION: There is an inherent risk with the use of any and all rechargeable batteries in any circumstance. Use special caution when working with Li-ion (Lithium-ion), LiPo (Lithium-ion Polymer) and any rechargeable cells, as they are very sensitive to charging characteristics and may explode or burn if mishandled. Make sure the user has enough knowledge of Li-ion (Lithium-ion), LiPo (Lithium-ion Polymer) and any rechargeable cells in charging, discharging, assembly and storage before use. Always charge in/on a fire-proof surface. Never leave charging batteries unattended. Do not use any rechargeable battery as well as any battery charger if any visible damage is present, as well as if the cell or charger has been stressed through mishandling, accidental or otherwise, even if damage may not be visible. Always store and transport rechargeable cells in a safe, non-conductive container in a controlled environment. Dispose of all battery cells and chargers in accordance to local laws and mandates. Do not use chargers purchased outside of blackmesavapors.com. Doing so may cause damage to the battery and malfunctions which can cause serious injuries. We are not responsible for damage of any modification to the batteries in form or shape. We are not responsible for any damage caused by misuse or mishandling of Li-ion (Lithium-ion), LiPo (Lithium-ion Polymer) and any rechargeable cells.
Learn more about proper storage and care for rechargeable batteries here: http://batteryuniversity.com/
Here are some other items that might interest you: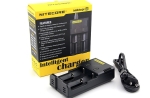 Nitecore i2 Charger
Price Varies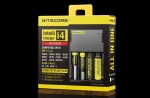 Nitecore i4 Charger
Price Varies
18650 2100mah 30A Battery
Product Code: B31
SONY VTC4 18650 2100mah Battery – Flat Top – 30A
Sold Individually
High Amps discharge current, great for mech mods and sub-ohm builds
Manufacturer's Specs:
Dimensions: 65.0mm (L) x 18.2mm (D)
Weight: 45g
Typical Capacity: 2100mAh
Min Capacity: 2000mAh
Max Continuous Discharging Current: 30A
Discharge cut-off voltage: 2.5V
Voltage: 3.7V
Full Charge Voltage: 4.2V
Safe chemistry LiMN means reduced risk of venting with flame or explosion. Due to the safety inherent in IMR safe chemistry batteries there is no protection circuitry added or built in. This provides a slightly shorter battery length to enable a good fit in most mods.
To ensure longevity, it is not recommended to allow the battery to discharge below 2.5V.
Please note that due to their inherent safety, IMR cells don't have a protection circuit built in. They should never be discharged below 2.5 volts or cycle life/performance will be reduced. Maximum charge voltage is 4.25 volts.
Lithium Ion Battery Warning
Usage of Li-ion batteries is at your own risk!
Use caution when working with Li-ion cells; they are very sensitive to charging characteristics and may explode or burn if mishandled.
User must have appropriate understanding of lithium ion batteries when charging, discharging, and assembly before use.
Please perform your due diligence and make sure that this battery is compatible with the item for which you intend to use.
Battery may explode or catch fire if mistreated.
Charge only in a smart charger designed for this specific type of lithium ion battery. Do not mix and match old and new, used and unused batteries.
Always charge in or on a fireproof surface. Never leave batteries charging unattended.
Do not store loose in a pocket, purse, etc. – always use a protective case.
Touching conductive materials on batteries positive contacts can short and damage them permanently.
Do not use battery if wrapper or insulator is damaged or torn.
Any conductive debris or materials on either contact can cause a short
Do not heat above 100℃ or 212℉.
Do not disassemble or incinerate.
Do not expose to water or fire.
Do not short circuit – battery may explode, burn, or cause a fire.
Keep away from children and pets.
Local regulations and laws pertaining to the recycling and disposal of lithium ion batteries vary so please consult your local jurisdiction regarding appropriate disposal.
Black Mesa Vapors LLC accepts no responsibility or liability for any injury, damage, or defect, permanent or temporary that may be caused by the improper use of a LI-ION battery.
---
---
Tweet