Chargers
Recharge your batteries numerous times with our dependable chargers.
Here are some other items that might interest you: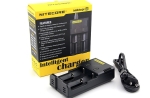 Nitecore i2 Charger
Price Varies
Nitecore i4 Charger
Product Code: CH13
The Intellicharge i4 is a universal, automatic charger which is compatible with almost all types of rechargeable batteries thus eliminating the need to own several chargers.
Features:
1. Capable of charging 4 batteries simultaneously.
2. Each of the four battery slots monitors and charges independently.
3. Automatically identifies Li-ion, Ni-MH and Ni-Cd rechargeable batteries.
4. Three charging modes (CC, CV and Trickle Charge).
5. Automatically detects battery status and selects the appropriate voltage and charge mode.
6. 3 Color LED displays charging progress for each battery.
7. Automatically stops charging when complete.
8. Reverse polarity protection.
9. Designed for optimal heat dissipation.
Battery Activation:
For every installed battery, the i4 will activate the battery by charging it for six seconds at a low current.
If zero voltage is detected, all three yellow power indicators will blink quickly.
If activation fails the first time, please remove and reinstall the battery once again and activate for the second time.
Specifications:
Input voltage: AC 100-240V 50/60HZ or DC 12V
Input power: 10W
Output voltage: 4.2V +-1% / 1.48V +-1%
Output current: 375mA x 4 / 750mA x 2
Lithium Ion Battery Warning
Usage of Li-ion batteries is at your own risk!
Use caution when working with Li-ion cells; they are very sensitive to charging characteristics and may explode or burn if mishandled.
User must have appropriate understanding of lithium ion batteries when charging, discharging, and assembly before use.
Please perform your due diligence and make sure that this battery is compatible with the item for which you intend to use.
Battery may explode or catch fire if mistreated.
Charge only in a smart charger designed for this specific type of lithium ion battery. Do not mix and match old and new, used and unused batteries.
Always charge in or on a fireproof surface. Never leave batteries charging unattended.
Do not store loose in a pocket, purse, etc. – always use a protective case.
Touching conductive materials on batteries positive contacts can short and damage them permanently.
Do not use battery if wrapper or insulator is damaged or torn.
Any conductive debris or materials on either contact can cause a short
Do not heat above 100℃ or 212℉.
Do not disassemble or incinerate.
Do not expose to water or fire.
Do not short circuit – battery may explode, burn, or cause a fire.
Keep away from children and pets.
Local regulations and laws pertaining to the recycling and disposal of lithium ion batteries vary so please consult your local jurisdiction regarding appropriate disposal.
Black Mesa Vapors LLC accepts no responsibility or liability for any injury, damage, or defect, permanent or temporary that may be caused by the improper use of a LI-ION battery.
---
---
Tweet