Atomizer Coils
The atomizer coil is the heating element responsible for vaporizing the liquid.
Here are some other items that might interest you: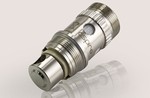 Aspire Atlantis Coil
Price Varies
Aspire Triton Coil
Product Code: AT10
These are replacement coils for the Aspire Triton, Atlantis, and Atlantis 2. The 0.3Ω (55-65W), the
0.5Ω (20-30W)
and the 1.8 coil (10-13W) are made with Kanthal wire. The 1.8Ω coil has a smaller internal diameter and reduced airflow that's perfect for flavorful mouth-to-lung hits.
The 0.4Ω (25-30W) is made with stainless steel wire to reduce burnt tastes at high wattages. Coils are constructed vertically with wicking around the outside of the coil, which keeps up with thick liquids and thin liquids with no leaking or dry hits.
The Aspire Triton 0.15
Ω
Ni200 Nickel Replacement Coil allows for the use of temperature controlled output (with compatible devices only), allowing users for superior control and vape quality. These coils are also compatible with the Aspire Atlantis platform, bringing one of the most popular Sub-Ohm Tanks to the new age!
Risk of battery explosion! Ni200 is designed for use only with devices equipped with circuit boards capable of controlling coil temperature, such as DNA 40. Do not use this product with any other type of device whatsoever.
---
---
Tweet